As you know, the Coronavirus continues to impact the global economy.
Sedgwick County has issued a stay-at-home order effective March 25th, 12:01am.
As a result, our distribution center will close Wednesday March 25th and will not re-open until April 25th. We will keep you up-to-date if these circumstances change.
We appreciate your loyalty to Epic Sports during these difficult times. It is our understanding many leagues are currently postponed, but will resume when they are able to. We'll still be here to supply the gear you need, at the prices you love.
In the meantime, stay safe.
Thank you,
Epic Sports
Breast Cancer Awareness Pink Knee High Ribbon Socks. 70% High Bulk Acrylic / 28% Polyester / 2% Spandex
Product Description
Breast Cancer Awareness Pink Knee High Ribbon Socks
A portion of the proceeds from the sale of this sock goes to Breast Cancer Research.
Features:
- Knee High Socks
- 70% High Bulk Acrylic / 28% Polyester / 2% Spandex
*Socks May Ship Without Tags*Breast Cancer Ribbon Socks #3 Black/Pink Ribbons Item
E125249
---
**NOTE: You Are Ordering By "SOCK" Size - NOT "SHOE" Size**Sock Sizes:
6-8 1/2 (Small)
9-11 (Medium)
9-13 (Medium/Large)
10-13 (Large)
SOCK SIZING CHART


SIZE
SOCK SIZE
FITS SHOE SIZE
YOUTH
LADIES
MEN'S
SMALL
YOUTH 6 - 8 1/2
12 - 4
4 - 5
--
MEDIUM
INTERMEDIATE 9 - 11
--
5 - 10
4 1/2 - 8 1/2
MEDIUM/LARGE
INTERMEDIATE TO ADULT 9 - 13
--
5 - 12
4 - 12 1/2
LARGE
ADULT 10 - 13
--
11 - 12
9 - 12 1/2
Due to the knitting process the exact length is not guaranteed, there will be variance.
Tolerance (+/-) 1/2"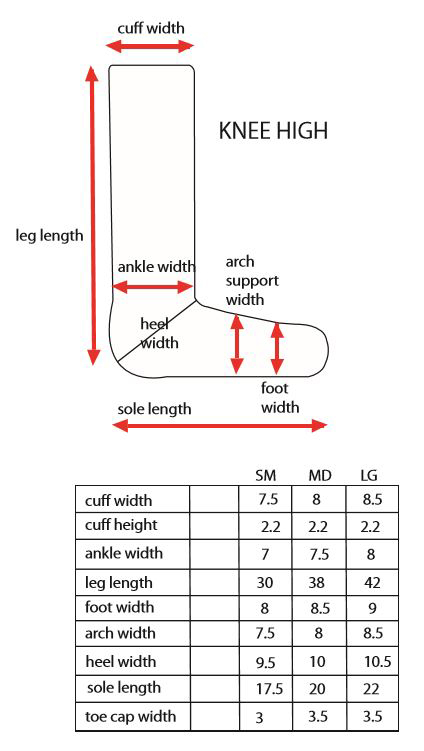 **BECAUSE DYE LOTS VARY, WE CANNOT GUARANTEE COLOR MATCHING ON ALL SHIPMENTS**
Due to color differences in monitors, the colors on this site are for reference only. Please contact Epic Sports if you have any color questions.
WARNING
Frequently Bought With
Customer Reviews
P. MITCHELL

(Maryland) on November 4, 2019
these socks are great. they came in two sizes, so I was able to get the correct size for my grandson. Also the fabric was very thick and soft. much better than any I saw in the store
---
T. SHARP

(Florida) on October 10, 2019
Socks was great the kids loved them and they where great quality
---
T. ENCINAS

(California) on September 10, 2019
Good quality
---
J. BURGESS

(North Carolina) on November 1, 2018
I love these socks!! Pink color is striking, socks are thick (not too thick) and comfortable. Socks can be worn pulled up to just below knee or scrunched down, either way is very comfortable. Highly recommend
---
G. CONICELLI

(Connecticut) on October 22, 2018
Good quality at a fair price. Sizing seems to run true. Verify size you need before ordering. Most of my 14U & 16U girls use a large size.
---
Featured Recommendations