Soccer Ball Buying Guide
Bouncing a few ideas around on how to improve your game? You might just start with your soccer ball. As we know, the game of soccer involves a lot of fancy footwork, technique, and team work. But what it really comes down to is how well your soccer ball performs for you. Whether you're coaching, playing, or have a child in a soccer league, knowing a little more about the soccer ball, such as how to select one, how to tell a good soccer ball from a cheap one, and how to take care of it, can help you get the most out of yours. And that just might be all you need to kick your season off on the right foot this year.
Soccer balls contain four main components: cover, stitching, lining, and bladder.
Cover
The outer casing of a soccer ball is composed of panels made from synthetic materials, such as PVC, PU, or a combination, sewn or glued together. Soccer ball casings are rarely leather anymore, since leather tends to absorb moisture making the ball heavier and not perform as well. The number of panels or sections of the outer casing varies according to design. Most professional soccer balls are the 32-panel design. More panels mean a rounder and stabler ball, and a more accurate flight.
Stitching
Panels are attached in one of three ways: gluing, molding, and stitching using five-ply polyester thread. The most expensive balls of course are hand-stitched. Low-end practice balls have glued or molded panels.
Lining
Four or more layers of polyester-cotton lining come between the casing and the bladder to give the ball more durability, shape, and bounce.
Bladder
Beneath the four layers lies the part that holds the air, or the latex bladder. A less expensive ball might contain a butyl bladder.
How do I select a soccer ball?
There are a few things to consider when looking for the right soccer ball.
Type of soccer ball
Construction
Design
Size
Quality
Durability
Performance
Price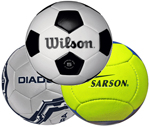 Different types of soccer balls
Soccer balls come in various sizes, materials, and designs. There are basically three categories of outdoor soccer balls: high-end professional tournament soccer balls, match soccer balls, and training balls. All three come in a range of prices, sizes, materials, and designs. There are also indoor soccer balls, called futsal balls.
Construction
You might be wondering, what's the best material for a soccer ball?
It depends on its intended use. Soccer ball casings are made from three kinds of synthetic materials. Polyvinyl carbonate (PVC) which is what most less expensive training balls are made from, Polyurethane (PU) which is the preferred ball for soccer tournaments, and a combination of the two. There are also foam and rubber training soccer balls for kids. Some kids' soccer balls are made of 100 percent thermoplastic polyurethane (TPU), which is a kind of foamy casing material so the ball is very soft. There are greater and lesser grades of each kind of material. PU-covered balls are generally softer, livelier, and have a better feel to them, and are what most people seek when looking for a optimal performing soccer ball.
Design
Soccer balls come in three kinds of panel designs: 18, 26, and 32-panel. Each can be used for soccer games, though 32-panel soccer balls are the most common.
How does the design of a soccer ball affect performance?
Companies are always looking for new ways to improve the look and feel of their soccer balls, which means always experimenting with new looks and designs. Design really comes down to personal preference, though it's thought that the 32-panel soccer ball is the most spherical and stable, therefore offers the smoothest flight.
Size
Size counts when it comes to selecting the right soccer ball for you or your child. The size of the ball should be proportionate to the size of the soccer player.
What size soccer ball should my child use?
Official league soccer balls come in three general sizes: 3, 4, and 5. There are smaller ones, but these size are the most commonly-used among young and adult soccer players.

Here are some guidelines:
| | | | | | | |
| --- | --- | --- | --- | --- | --- | --- |
| Size 3: | | 3-7 years old | | (U4 - U8) | | 23-24 inches/11-12 ounces |
| Size 4: | | 8-12 years old | | (U9 - U12) | | 25-26 inches/12-13 ounces |
| Size 5: | | 13 years and up | | (U13 - U18) | | 27-28 inches/14-16 ounces |
Quality
Trendy names, fancy designs, and higher prices don't necessarily mean some soccer balls are better than others. Don't fall for advertising hype. A moderately-priced soccer ball might perform and hold up just as well as the one that costs three times as much. With today's advanced technologies and materials replacing good old-fashioned leather, there are many soft and durable, lightweight synthetic soccer balls that may just as well suite you, in fact leather soccer balls are no long the norm since they tend to absorb moisture. There are also things you can do to extend the life of your new soccer ball, such as storing it correctly, cleaning it, and using it properly. But the mark of a truly sweet soccer ball comes down to feel and performance, which is highly individual.
How can I tell a good soccer ball from a cheap soccer ball?
The ultimate determination is how a soccer ball feels and performs for you on contact. A good soccer ball will not only be tough enough to hold up to your fast and furious play, it will feature a soft casing for comfortable heading, and durable stitching (if stitched). It should handle well, and have good response. Most good soccer game balls feature a poly-urethane (PU) casing. Most leagues prefer 32-panel designs for its performance value. Also check for a warranty. Your new soccer ball should come with a manufacturer's warranty against defects and damage caused by normal play.
How long will my soccer ball last?
It depends on the construction of the soccer ball, how often you use it, and how well you take care of it. Check your manufacture's warranty. Many new soccer balls come with a one to two-year warranty. Under normal, frequent use, you should expect your new soccer ball to last you at least a couple seasons.
Performance
A soccer ball can look awesome, but if it lacks good response you're never going to fall in love with it. Your game really comes down to how well your ball performs. One trick you can do in the store to test a ball's performance is to give it a spin in the air. A well-balanced ball should spin smoothly. That will mean smooth sailing on the field. If you can, try it out. Try several of them until you find the one that feels just right.
Price
For the most part, soccer balls are pretty affordable. Training soccer balls for kids start at under $10, and for around $60 or less, you can get a good, league-approved tournament soccer ball. Of course there are more expensive ones, depending on what you're looking for. Cost depends on the type of ball, materials, quality, and also the outlet you buy from. Our soccer balls can be bought economically in sets of six or more, or singly. Shopping online at Epic Sports can save you up to 60 percent if not more off retail prices on your favorite brands.
How large is an official soccer ball?
A standard regulation soccer ball, according to FIFA's Laws of the Game - Law 2, is 27 to 28 inches (68 to 70 cm) in circumference.
How do I take care of my soccer ball?
Proper care can add years to your soccer ball, and keep it at peak performance. Here are a few tips.
Use and store your soccer ball properly
Don't use it off the field, or for anything other than soccer
Don't leave it outside. Store indoors at room temperature in a dry place
Inflate your soccer ball correctly
It's important for the performance and health of your soccer ball that it's inflated to its correct pressure while playing. Most soccer balls should have an air pressure of 6 to 8 pounds, according to soccerballworld.com. You can buy a ball pressure gauge from a sporting goods store. Use it to check your soccer ball before games.
To inflate and deflate your soccer ball you'll need:



An athletic ball pump
A pump needle and lube
A pressure gauge
Steps
Apply a little silicone lubricant to the needle and insert into the opening of the soccer ball
Slowly pump air in, and inflate to the correct air pressure (between 6 and 8 psi)
Carefully remove needle from the opening
To deflate, insert the needle in the opening and slowly allow air out
Tips
Do not over or under-pressurize
Inflate your ball to the manufacturer's recommended air pressure
Use an athletic pump and needle; don't attempt with a tire pump
Slightly deflate your soccer ball after games to relieve the pressure, remembering to inflate to the correct pressure before the next game
Clean your soccer ball after every use
Brush off caked-on dirt and mud
Wipe down with a damp rag
Use only mild cleaners if necessary
What are the best soccer balls for kids?
The best soccer ball for your child will depend on league requirements, since different age groups and leagues require different kinds of soccer balls. There are lots of great soccer balls for kids. Talk to their coach. Soccer balls for kids don't have to be expensive. Once you know your child's correct size, select one they like. If it feels right to them and they fall in love with it, they'll spend hours kicking it around and boning up on their skills. Make sure their soccer ball is lightweight and easy for them to control. For any kid new to soccer, that first goal will be a real self-confidence booster! Remember to keep training fun. We offer many colorful, affordable, fun-print soccer balls to liven up their practices.
How have soccer balls changed?
The size of a regulation soccer ball has changed little since 1872, since the rules first set it at 27-28 inches in circumference. What has mostly changed are materials, technologies, and look of the soccer ball.
In 1937, the regulation soccer ball put on a little weight, increasing from 13-15 ounces to 14-16 ounces. Soccer balls used to be made exclusively of leather. Not so these days! Current technologies have come up with leather-like synthetic materials that are softer, more lightweight, water-proof, and perform as well if not better than leather soccer balls. As for the look, early soccer balls were tan but difficult to see from the stands; although white leather-washed soccer balls are known to have been used. White soccer balls replaced their tan predecessors in the 1950s, and were composed of 18 panels. Black spots were added to allow soccer players to track the ball's swerve. Today's soccer balls come in an array of colorful designs and styles to suit every player.
Who invented the soccer ball design?
If you've ever noticed, a traditional soccer ball resembles a geodesic dome building. Such as the one designed by architect, Richard Buckminster Fuller. Thus the ball became called the Buckminster Ball. Or more simply, the "Buckeyball". The design is characterized by a pattern of twenty hexagon pieces, and twelve pentagon pieces, fitted together to create a perfect sphere. The soccer ball has undergone many design changes of various-shaped panels stitched together. But until the geodesic dome-like ball, it was never quite round enough to perform right. Manufacturers settled upon the modern thirty-two panel design, which enables the ball to roll and spin more evenly and smoothly. Which is probably why it's the most popular competition soccer ball on the market today. The Buckminister-style soccer ball was first sold in the 1950s, and debuted in the 1970 World Cup tournament.

What is a Futsal ball?
A Futsal ball is basically an indoor soccer ball used for playing 'Futsal', a term literally meaning 'indoor football'. Futsal is a kind of soccer played on a basketball-sized court using a smaller, heavier, less bouncy ball, and demands many of the same skills as outdoor soccer. Size-wise, FIFA-approved futsal balls are just shy of 25 inches in circumference, slightly smaller than a Size 4 soccer ball. The ball is created with less bounce to facilitate indoor play.
Good soccer games begin and end with your soccer ball! Without the right one, all the slick moves, all the training and team work are not going to make up for points lost by not having the right soccer ball. By understanding the differences between balls, how to select the right ball for you, and how to make the most of your soccer ball can mean all the difference in your game. Reach your soccer goals this season and check out Epic's full line of affordable soccer balls for all ages and abilities.
Soccer Balls
You'll be happy to know that our 20-60% discounts today on soccer balls and name brand soccer gear and clothing can really add up to large savings for Epic Sports customers. Whether your team is shopping for soccer balls, soccer jerseys, goals, nets, shoes, socks, cleats, uniforms, training DVDs, unique gifts, and much more, our team beats the competition. And so will yours when you save a lot of money on the right styles and the right equipment. Whether you're a serious team player in the US or internationally you'll always receive big scores on just about everything you need right here in our shop.